Top 10 African Jewellery Brands
         Jewellery is frequently regarded as a fashion accessory for accomplishing an outfit. Many people believe that a look is not complete until the appropriate accessories are added. For example, a "classic" look necessitates the addition of pearls and diamonds.
For hundreds of years, jewellery has played an important role in human life. History teaches us that ancient civilisations valued jewellery and used it to enhance the natural beauty of its wearers. Various pieces were worn to represent various messages such as security, wisdom, elegance, and prosperity.
Here are Africa's top 10 jewellery brands
Symbols of Authority is an independent, small-batch jewellery company specialising in everyday, statement jewellery.
Their Pieces are inspired by antiquity, art, and nature in everyday life. At the heart of SOA is irreverence, a belief that fashion is inherently enjoyable and that life is the occasion. 
Their founder founded the company to turn her passion for art, history, and politics into wearable art. The designs, which are handcrafted in India, pay homage to everything from ancient symbology, architecture, African flora and fauna, to distinctive pre-colonial art and sculpture. 
She is an award-winning fashion entrepreneur with over ten years of experience as an autodidact jeweller and designer. Her signature style is bold, culturally aware, intentional, and feminine. She wants her pieces to make women feel extraordinary and powerful. SOA jewellery is of exceptional quality and will become a istaple in your wardrobe.
Each piece in their collection corresponds to a specific art movement or interprets the codes and ideas of antique myths and monarchies.
Yala is an award-winning African jewelry line created for exceptional women. 
We make long-lasting ethical  jewellery with fairly compensated collaborators and environmentally friendly materials. Their small batch collections are made exclusively for us and have a low environmental impact. 
Audrey Migot-Adholla, Founder and CEO, is the inspiration behind Yala. Audrey, who was born in Kenya and now lives in Bristol with her husband, divides her time between the two countries. The brand is named after her late grandmother's hometown in Kenya. 
Audrey turned her passion for accessories, from beadwork to wax prints, into Yala. Her dream was to start a company that worked with local artisans and showcased their talents around the world.
Yala is a collection of talented Kenyan artisans and creatives who represent the country's diversity and potential.
We work with Kenyan makers, models, photographers, and stylists to embody our rich culture and empower the people who have all contributed to their jewellery creation. 
Ami Doshi Shah is a Nairobi-based jeweller and applied artist. She studied at the Birmingham School of Jewellery and has received the prestigious Goldsmiths Award for Best Apprentice Designer UK as well as the African Designers for Tomorrow Award.
Her work is heavily influenced by the talismanic and symbolic role of adornment. Ami creates sculptural pieces and wearable art from locally sourced materials, off cuts, and remnants of the Kenyan mining industry, straddling Kenyan roots and a 'global' aesthetic. Contrasting raw and industrial, texture and clean lines – juxtaposing materials in unexpected ways is central to her design philosophy.
Working in collaboration with the British Council, British Fashion Council, London College of Fashion, and Somerset House, Ami is the first Kenyan designer and only jeweller to exhibit her work in 2019.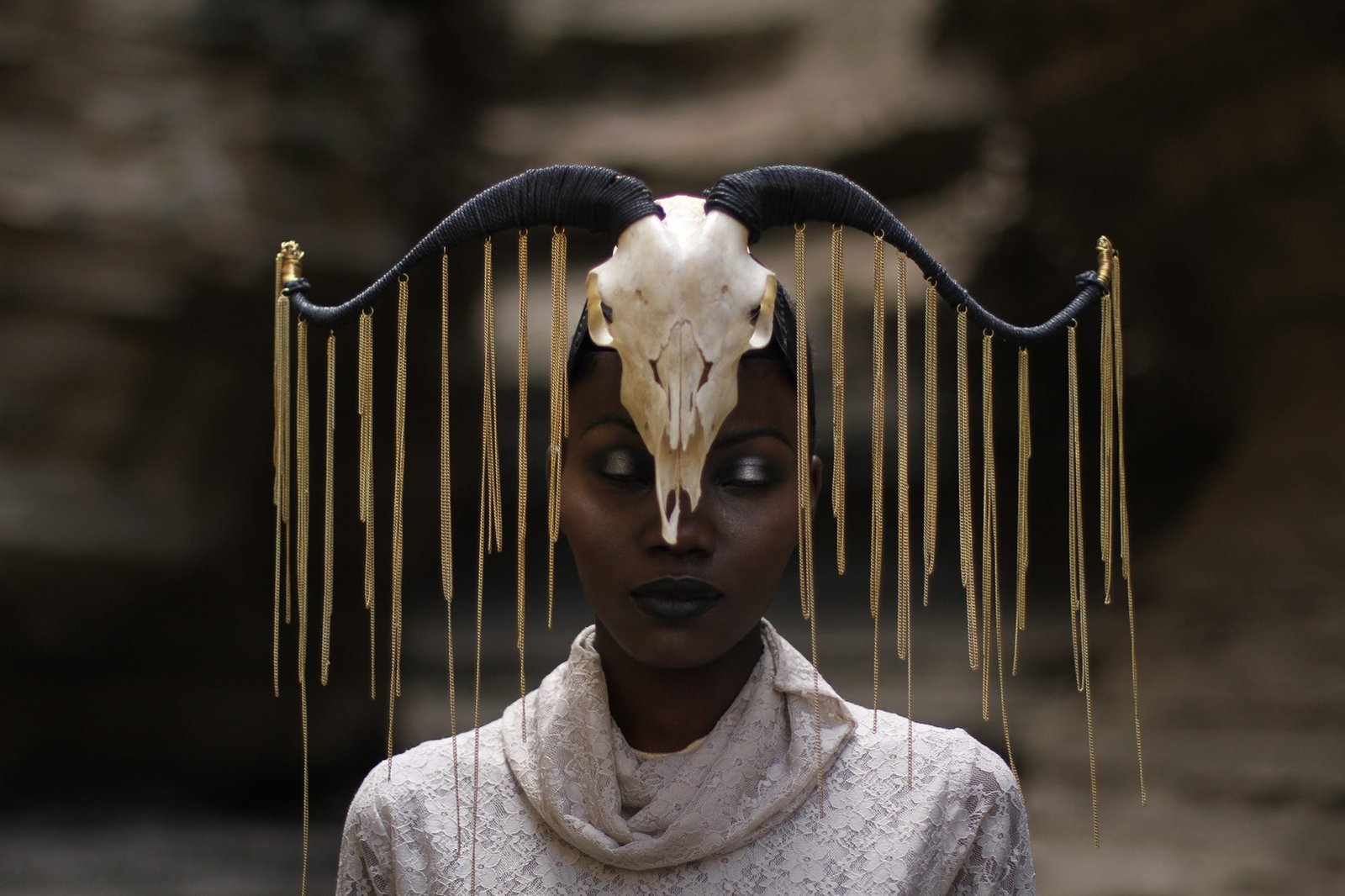 Not African Enough by the Nest Collective is a collection of words and images from a group of emerging Kenyan designers who are contributing to our country's shifting aesthetic. Their story is one of defying unreasonable expectations of what African design should look like, and of intellectually and aesthetically engaging their consumers – and indeed contemporary culture – with their work.
Pichulik uses the language of African artistry and ornamentation to honour the bravery and beauty innate in all women, everywhere, as echoed in the words, You are Enough.
The Nest Collective's Not African Enough features a selection of words and images from emerging Kenyan designers who are contributing to our country's shifting aesthetic. Their story is one of defying unreasonable expectations of what African design should look like, and of intellectually and aesthetically engaging their consumers – and indeed contemporary culture – with their work.
Each piece is a talisman, handcrafted from unusual, organic materials into unique forms that tell the stories of courageous women and celebrate empowering feminine narratives. Each collection depicts a different stage of a heroine's odyssey, which is rich in mythology, symbolism, and transformation.
Katherine-Mary Pichulik founded Pichulik in 2013, and it has grown into a strong woman and one-man team.
James and Kris Kamawe shared enthusiasm for native jewellery after many trips to Nairobi, Kenya. Every item is the result of love and skill. These beautiful accessories, handcrafted by local artisans and brought to you by Shop Kamawe, will be the small piece of Kenya that your heart desires. You will be amazed by their beauty and charm for years.
Ellen Agyeman the brand owner for over 20 years, and her daughter Rachel Adejobi have successfully worked together to produce generational wealth and spread ancestral knowledge of Ashanti culture throughout the Bay Area and beyond. The dynamic duo collaborates and partners with fabric, wood, stone, and fine mineral designers and craftsmen primarily in the North, East, West, and South African regions.
Sankofa Oakland believes in and practices the gift of returning home and bringing those who have been left behind to a present filled with peace, encouragement, and power. We show our love by collaborating with Oakland Black grassroot non-profit organizations such as Attitudinal Healing Connection (ahc-oakland.org), Earn2Learn teen employment program, and Black Love Movement (blacklovemovement.com) to provide food and sanitary/essential supplies to low-income/homeless community members.
By providing quality handcrafted wearable art from the motherland, their mission as an independent African woman-owned and operated business is to educate and empower the Diaspora while also positively developing Pan African economics for all shades of brown, spanning all cultures and ethnicities.
TruHeritage is a luxury jewellery and accessories brand available exclusively online. They offer high-quality, handcrafted African-inspired clothing.
Their designs are inspired by the customs and traditional wear of various indigenous cultures, and they promote the preservation of artisanal skills and traditional craftsmanship, as well as encouraging them to appreciate their African heritage.
Being proud of my African heritage and culture, my goal is to provide a modern twist to ethnic jewellery, clothing, and accessories, creating a one-of-a-kind fusion of tradition and contemporary style.
Its mission is to provide a diverse range of high-quality handcrafted products to our customers while also creating income opportunities for people in developing countries.