African Luxury Print Brands 
Try being daring when it comes to how you express yourself with your wardrobe. Prints are a bold, daring, and versatile way of expressing your style. Here I will talk extensively about some African luxury print brands. These brands have a wide range of luxury prints you can choose from.
Banke Kuku, who was born in Lagos in the 1980s, emigrated to the UK when she was eight years old. Banke earned a bachelor's degree in textiles at the age of 19 after graduating from Chelsea College of Art and Design and Central St. Martins College.
After working with a number of top international fashion firms and the renowned interior design firm, Designers Guild, and helping with the fabric design for the Royal Collection that was shown at Buckingham Palace in 2010, Banke started the textiles division of her business in 2011. Her vivid designs are a direct result of the cultural mix between the country of her birth and the place where she spent her formative years. The outcome is a statement print with an enthralling impact. 
Banke Kuku Textiles has worked with businesses throughout the years to produce stunning and distinctive products. Their collective designs are produced in accordance with project briefs and their clients' exacting tastes.
Their joint ventures include, among other things: fashion prints for seasonal collections; prints and product design for fashion and lifestyle accessories, and interior textiles and furniture for private and commercial (hotels, restaurants, bars, office spaces) clients.
Through partnerships with fashion businesses, including Lot78, Jewel by Lisa, Virgos Lounge, and Duro Olowu, the resulting creations have graced the catwalk at New York Fashion Week and been worn by celebrities like Michelle Obama and Lupita Nyong'o.
The interiors division of Banke's company was introduced in 2013, and it was motivated by her commitment to and inventiveness in merging West African and Western traditions to create a sense of a modern Africa with a design aesthetic that is a spectacular kaleidoscope of color and energy. Then, opulent fabrics for interiors, soft furnishings, and clothing are created using each pattern as a stencil. Every product complies with global quality requirements.
She received orders from significant clients, including Selfridges, Aynhoe Park Hotel Oxford, Le Bon Marche Paris, Bazar et Grande Manger Tokyo, and ABC Carpet and Homes New York, to mention a few, very immediately after receiving positive feedback about her interior designs.
In 2014, Banke Kuku Textiles was chosen among thousands of candidates to take home the prize in Triumph's competition for female creatives called "Women in Making." Fashion industry heavyweights Roksanda Ilincic and Sophia Webster were on the judging panel.
2019 saw the opening of Banke Kuku's first womenswear and accessory collection in her Lagos store. The opening of her online store in 2020 and the addition of children's clothing in 2021 came after this. In addition, it collaborates with regional, national, and international stockists and speciality stores to disseminate its creations worldwide. 
The renowned print designs by Nigerian fashion designer Lisa Folawiyo combine traditional West African fabrics with contemporary tailoring and beaded decorations. Since launching her brand in 2005, Folawiyo has led the charge for Nigerian designers to gain recognition abroad for their creations. She has a talent for bringing conventional African prints up to par and making them appealing to a worldwide market. She maintains stores in Nigeria and New York, and the United Kingdom, the United States, South Africa, and Nigeria itself all stock her collections.
Along with Maki Oh and Kofi Ansah, two more well-known designers from the Nigerian fashion scene, Folawiyo was nominated for the African Fashion Awards in 2012. Folawiyo, who is supported by Vogue Italia, has collaborated with L'Oréal and held a trunk show on Moda Operandi. Selfridges carries her line.
In addition to being published in publications like the international editions of Vogue, The New York Times, Harper's Bazaar, and Elle, the Lisa Folawiyo brand has displayed collections on international platforms in Lagos, Johannesburg, London, Paris, Milan, and New York. The J Label and Pretty Precious are only a couple of the brand's diffusion lines. MatchesFashion, Moda Operandi, Temple Muse, Shop McMullen, Industrie Africa, and Aby Concept all carry the brand.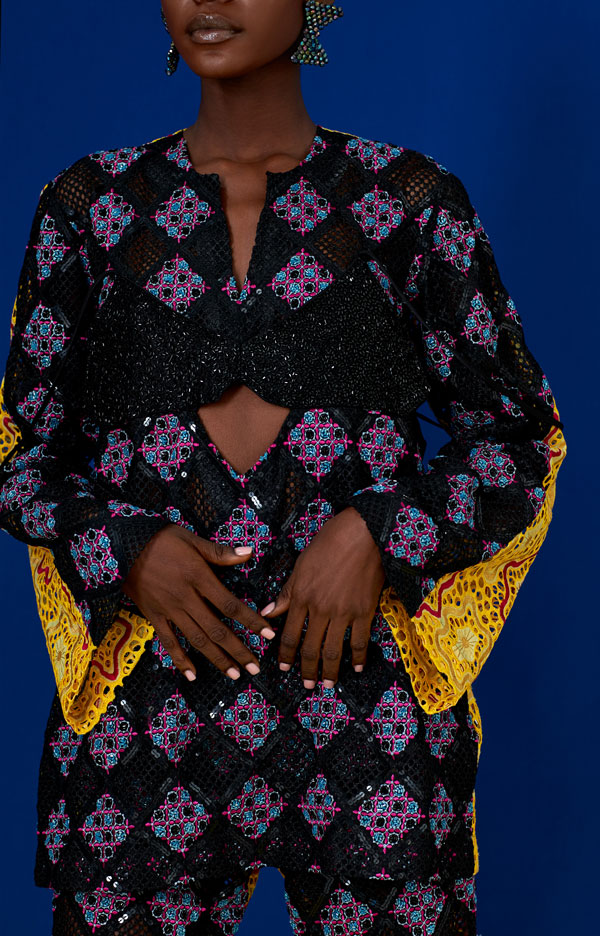 From Lagos and Johannesburg to London, Paris, Milan, and New York; from New York Fashion Week to the Pitti W Tradeshow and the Vogue Talent Exhibition in partnership with Vogue Italia; Lisa Folawiyo has shown its collections on international platforms.
The New York Times, Harper's Bazaar, Women's Wear Daily, Drapers, BBC.co.uk, Dazeddigital.com, ModaOperandi.com, The Financial Times Online (How to Spend It), Essence, and Marie Claire are just a few of the magazines that have highlighted Lisa Folawiyo.
A number of celebrities, including singer Solange Knowles and actors Lupita Nyong'o, Lucy Liu, and Thandie Newton, have praised the brand and sported it.
Selfridges, Mytheresa.com, and Moda Operandi have all carried Lisa Folawiyo. 
Lisa Folawiyo has worked with well-known companies like Blackberry and L'Oreal to produce limited edition lipstick and nail polish covers and Blackberry phone cases, respectively.
The Jewel by Lisa Group, which also includes the Lisa Folawiyo line, the Jewel by Lisa (the Ankara collection), the J label, and the Pretty Precious brands, is home to the Lisa Folawiyo line (the Kids collection). 
Due to her appearances in the style bibles Vogue and Elle, Lisa has also emerged as a fashion icon in her own right. Her 90k+ followers' Instagram feed is jam-packed with pictures of her label-heavy personal wardrobe and instructions in unconventional styling. We are without a doubt in the presence of someone who is extremely knowledgeable about their field, and the designer is also the muse; we have never felt safer in their hands.  
Duro Olowu, who was born in Lagos to a Nigerian father and a Jamaican mother, spent his early years travelling back and forth between Africa and Europe. His love of fashion was sparked early on by the daring combinations of fabrics, textures, and draping methods used in the clothes worn by the people in his immediate environment. Olowu studied law in England, just like his father before him, and then came back to Nigeria to practice for a while. After moving back to London, Olowu pursued his true calling in fashion, launching his own line at the end of 2004. His debut line was an immediate success with buyers and editors of fashion all over the world, selling out at all of its stockists at the time, including Barneys in New York, Harrods in London, and Maria Luisa in Paris.
It featured the now-iconic "Duro" dress, which was named the dress of the year in 2005 by both British and American Vogue. He was the first designer to ever accomplish so without a catwalk show when he took home the "New Designer of the Year Award" at the British Fashion Awards in the same year.
Each of his collections includes elements of art, movies, music, culture, and real life in some form. The core of his work is always a narrative of concepts and the potentialities of attire and fashion. He made an effort to avoid being overly exact and instead make an interesting allusion.
Duro has a long history of collecting vintage African textiles, especially handwoven and printed textiles from the Yoruba, Ibo, Hausa, and Mali cultures in the early 20th century. The intricate methods used to create what he believes to be these "pieces of art" have been lost over time due to the popularity of inexpensive fabrics made in the Far East and elsewhere, as well as a lack of respect for traditional weaving and dying procedures. If there is no local demand for these abilities and materials, in the end, they will vanish.
The brand believes that in order for the next generation to recognise the value of mastering these weaving skills and techniques as a reliable source of revenue and stability in their local communities, it is crucial to try to respect and conserve them. African textile and clothing traditions are just as significant historically and culturally as those of Japan, Italy, France, and India, whose works are displayed in the world's top design museums and galleries. In order to prevent the calamity of low-cost global production, they must be conserved.